Packed full of benefits
£50 if we can't beat your renewal when you switch*.
Cover your home from £96* – 10% of new customers paid this or less.
Accidental damage cover to laptops, tablets, computers, audio equipment and TVs included as standard.
24/7 access to a market-leading UK-based claims service*.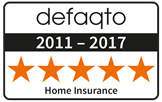 Don't just take our word for it. We're 5 star rated by Defaqto for our home insurance
With Rias, you have access to a market-leading claims service*
*Read the terms and conditions
*£50 if we can beat your renewal when you switch
To be eligible for the offer you should hold an existing Rias Car Insurance policy and purchase a Rias Home Insurance policy through rias.co.uk or the Rias call centre. The offer is not available on polices purchased via price comparison or cashback websites or for price comparison quotes completed via the Rias call centre. You must send proof of your renewal quote from your current provider within 30 days of the start date of your policy. The premium for your new Rias policy – excluding any additional cover such as Legal Expenses – must be more expensive than your renewal quote and cover comparable. For cover to be comparable, the following must match: property and personal details; accidental damage; personal belongings and high value specified items; total excess is the same or lower with your current provider. The offer is subject to a minimum premium of £80 (excluding instalment charges and fees). Read full T&Cs.
*Home insurance from £96
10% of customers paid £96 or less between 1st February – 30th April 2017 for our combined buildings and contents cover. Actual premium depends on individual circumstances, payment method and cover chosen.
*Household claims service
Household claims service, provided by Ageas Insurance Limited, has been awarded ServiceMark accreditation from the Institute of Customer Service by measuring up to the Institute's customer service standards and demonstrating ongoing commitment to customer service excellence.