Our home insurance is packed full of benefits
Choose from three rewards* when you buy our home insurance.
Accidental damage cover to laptops, tablets, computers, audio equipment and TVs included as standard.
New for old replacement on damaged or stolen items*.
24/7 access to a market-leading UK-based claims service*.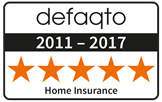 Don't just take our word for it. We're 5 star Defaqto rated for our home insurance
With Rias, you have access to a market-leading claims service*
*Read the terms and conditions
*Choose from three rewards
To claim your free gift, you need to have received a communication from Rias promoting this offer, in relation to a new Rias combined building and contents Home Insurance Policy ('Policy'); or be resident at the address of the person to whom the communication from Rias was sent. Free gift available when the Policy is purchased via www.rias.co.uk or the Rias call centre with a Policy start date between 1st October 2016 and 30th June 2017. Free gift not available if Policy purchased via price comparison or cashback websites or for price comparison quotes purchased via the RIAS call centre. Gifts are subject to change/availability & include £30 Marks and Spencer Gift Card, free night away for two & Sunday Lunch on us. You must have held your Policy for a minimum of 30 days & have no arrears. See www.riasrewards.co.uk/offer for full terms & conditions of the gifts.
*New for old replacement
Excluding clothing and household linen over 3 years old. Terms and conditions apply.
*Household claims service
Household claims service, provided by Ageas Insurance Limited, has been awarded ServiceMark accreditation from the institute of customer service.