Packed full of benefits
Home insurance from £96*, in fact 10% of new customers paid this or less.
Accidental damage cover to laptops, tablets, computers, audio equipment and TVs included as standard.
New for old replacement on damaged or stolen items*.

Take advantage of our exclusive 20% customer discount*. Please remember this offer can only be redeemed by giving us a call on 0800 597 5013, but feel free to get a quote online first.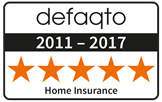 Don't just take our word for it. We're 5 star rated by Defaqto for our home insurance
With Rias, you have access to a market-leading claims service*
*Read the terms and conditions
*20% customer discount
To be eligible for this discount you need to hold an existing car or home insurance policy with Rias or one of our sister brands. The discount is for one year with the exception of eligible 2 year fixed policies where the discount will be honoured for two years. Only applies to home insurance quotes originating from www.rias.co.uk or the Rias call centre that are purchased via the Rias call centre. Excludes any additional optional cover such as Personal Legal Protection. Discount only available at time of purchase. The offer won't apply to any changes made to the policy to which the discount has been applied during the year. Rias reserves the right to withdraw the offer at any time but will honour the offer on any eligible policies bought as a result of quotes obtained before the offer withdrawal.
*Home insurance from £96
10% of customers paid £96 or less between 1st February – 30th April 2017 for our combined buildings and contents cover. Actual premium depends on individual circumstances, payment method and cover chosen.
*Household claims service
Household claims service, provided by Ageas Insurance Limited, has been awarded ServiceMark accreditation from the Institute of Customer Service.
*New for old replacement
Excluding clothing and household linen over three years old